Book Review by Lynn Grundstrom
The Sound of Light by Sarah Sundin
From the Back Cover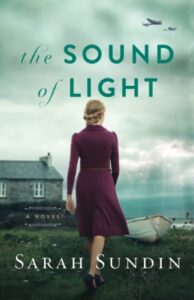 Copenhagen, 1940
When the Germans march into Denmark, Baron Henrik Ahlefeldt exchanges his nobility for anonymity, assuming a new identity so he can secretly row messages for the Danish Resistance across the waters to Sweden. American physicist Dr. Else Jensen refuses to leave Copenhagen and abandon her research–her life's dream–and makes the dangerous decision to print resistance newspapers.
As Else hears rumors of the movement's legendary Havmand–the merman–she also becomes intrigued by the mysterious and silent shipyard worker living in the same boardinghouse. Henrik makes every effort to conceal his noble upbringing, but he is torn between the façade he must maintain and the woman he is beginning to fall in love with.
When the Occupation cracks down on the Danes, these two passionate people will discover if there is more power in speech . . . or in silence.
In true Sarah Sundin fashion, The Sound of Light is a suspenseful, historical Christian novel that will keep the reader involved from the very first page.  Mrs. Sundin's expertise at research is present throughout the book with intricate detail about the daily life of the Danish people during Nazi occupation in the early 1940s.  I highly recommend this book.
The Librarian Spy: A Novel of World War II, by Madeline Martin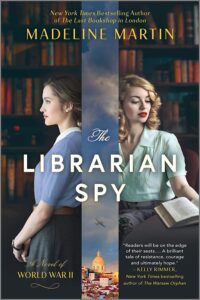 Based on the true accounts of undercover agents sent to Portugal to collect valuable information, in the form of books and newspapers, the Librarian Spy centers around two ladies, Ava Harper, an Archival librarian with the Library of Congress in Washington, DC, and Elaine Rousseau a housewife working with the French Resistance in occupied France.
Because of her knowledge of photographing and creating microfilm and her language skills, Ava is recruited by the United States military to pose as a librarian in Lisbon, Portugal while working undercover to gather information crucial to turn the tide on the war in Europe. Her job is collecting foreign publications, photographing them, and sending the film to America.
Elaine (Helene before her involvement with the Resistance), upon discovering her husband had been arrested by the Nazis, joins the Resistance as a courier delivering newspapers, explosives, and printer parts.  She begins learning about the printer and, later, printing the many underground pamphlets and newspapers distributed to members of the Resistance as well as smuggled out of the country.
Filled with suspense, this well-researched book is well worth the read.  Martin's descriptions are accurate and at times chilling as they enhance the bravery, courage and sacrifice faced by two strong women and the individuals that surround them.