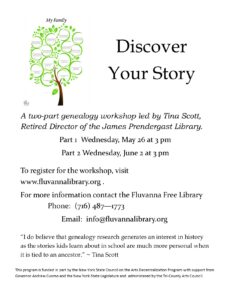 link to Part One (1) recording  here
link to Part Two (2) recording here
Help the Fluvanna Free Library every time y

ou purchase from Amazon with Amazon Smile.    Click Here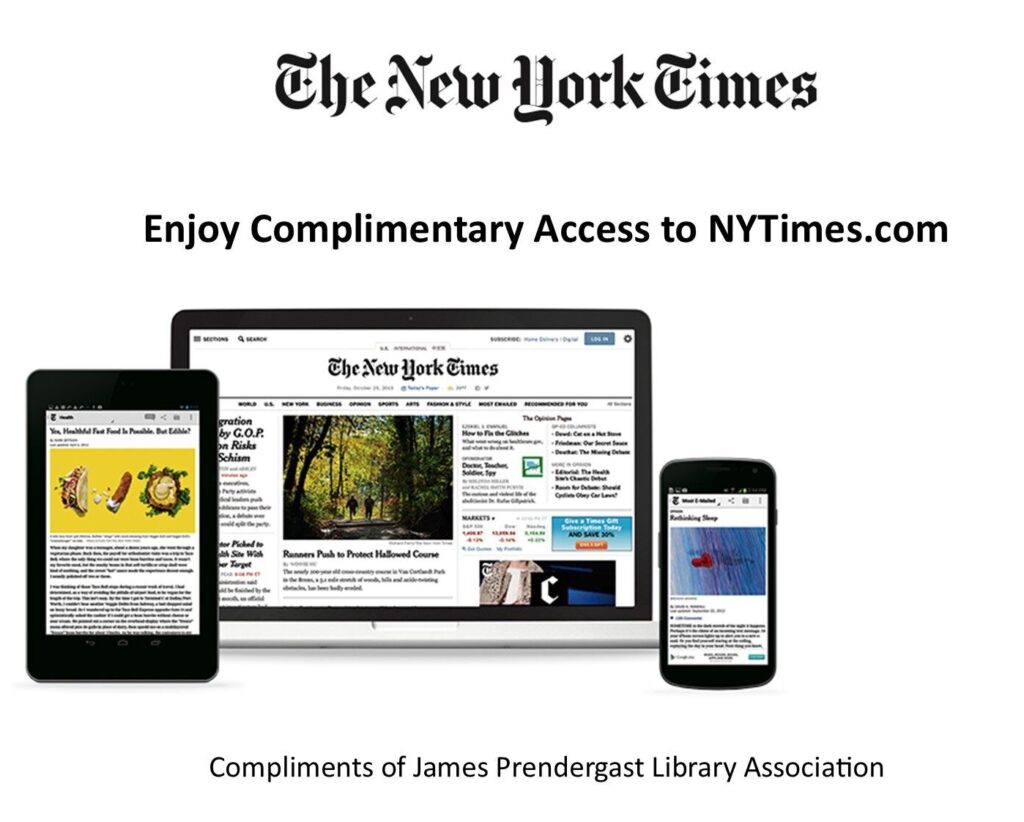 To access the Times click here
Activate a 72-hour pass for remote access. Once this pass expires, you can activate another code.
You will need to log in to your account. If you do not have an account with the New York Times, you will need to register with your email address.*
*Registering an email address will sign you up for promotional email from the New York Times. You can opt out of these emails when registering.
Help make history by sharing your story of the COVID-19 pandemic. Just as we relied on information about the Spanish Flu epidemic in 1917-1918 to inform our response to COVID-19, future generations may benefit from understanding what we experienced. By collecting your stories, we become witnesses-to-history, providing insight into daily life during this global pandemic and adding to the historic record."
There is an exciting opportunity for our community to tell about their experiences during the 2020 Pandemic.  Chautauqua Cattaraugus Library System (CCLS)  is working with Southern Adirondack Library System (SALS) to capture stories which will help tell our history. SALS started and is hosting "Leaving Our Fingerprints"  digital collection.   People are encourage to fill out a survey about their experience through a 20 question survey.  Everyone has a chance to upload 5 videos or photos as well and not all questions have to be answered. Please consider answering the survey and submitting some photos of your personal experience to record information for future generations.
Leaving Our Fingerprints, more information >>
Survey, Share Your Story >>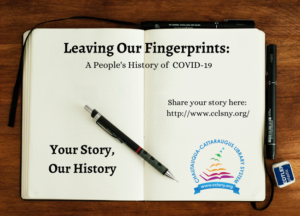 Hear Yee, Hear Yee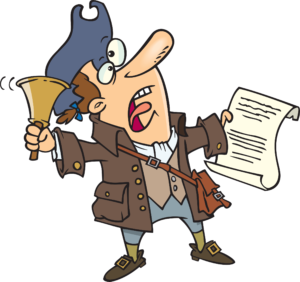 The Library is open to a full capacity (20 Patrons)

Curbside Service also available during open hours
Monday – Friday  10-6
Saturday  10-2
We will allow up to ten (10) people in the building at one time:
 If you have not been fully vaccinated, Masks or face coverings are

REQUIRED

while in the building.

The Community Room is OPEN.

Social Distancing Must Be Observed.

Only one person at a time in isles.

Study areas for students (Student Centers) available.

Student use of WiFi with their own devices allowed and encouraged…Use your own headphones or earbuds.
Donating Books and Movies
We are accepting the donations of books and movies:
Only During Open Hours

NO Text Books or Encyclopedias

PLEASE

Do Not

leave in the Vestibule
For Curbside Service:
Contact the library with you book, audio book or movie requests.                      
phone:  (716) 487-1773
 email: info@fluvannalibrary.org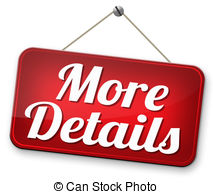 1.  Select materials from our catalogue and contact the library (by phone or email) to reserve them.  
2.  When we gather them, the Librarian will contact you and arrange a pick-up time. 
3.  Park in the designated pick-up location and your materials will be delivered to your car.
Follow the links below to pages that will help the whole family stay entertained and informed.
Watch our Facebook and pinterest pages for fun and educational activities for all the family.
New Titles